Search Engine Optimisation
Boost Your Website Traffic
Search Engine Optimisation
Search Engine Optimisation (SEO) can increase the search engine ranking and site traffic of any website. Our SEO solutions will help you achieve that and make your website stick out, especially for complex websites in competitive industries.
We first analyse a web site, followed by a step-by-step plan to have the website communicate keywords more effectively to search engines. Our ultimate goal is to get our clients more visitors and higher conversion of sales and leads.
Is the process of affecting the visibility of a website or a web page in a search engine's unpaid results—often referred to as "natural," "organic," or "earned" results. In general, the earlier (or higher ranked on the search results page), and more frequently a site appears in the search results list, the more visitors it will receive from the search engine's users. SEO may target different kinds of search, including image search, local search, video search, academic search, news search and industry-specific vertical search engines.
GIVE YOUR WEBSITE A BOOST
WHY YOU NEED SEO
RANKING MATTERS:
Research shows that approximately 85% of all websites are found via search engines
SEARCH ENGINES MATTER:

96% of internet users begin their Web search through through a search engine (Google, Bing, Yahoo, AOL)
BRINGS VISITORS:

Solid SEO and search friendly web designs will help bring visitors to your website.
EFFECTIVE STRATEGY:

SEO allows you to choose keyword phrases for searches performed by potential customers.
BILLIONS OF SEARCHES:

By January 2016, more than 17.5 billion searches were performed with 342 billion search results.
CONSUMER PERCEPTION:

The higher a website is on the search results, the more like that a customer would buy from it.
Search Engine Optimisation
On-Page & Off-Page Optimization
The goal of on page and off page optimization is to generate a theme consistent with your targeted keywords. The search engine is a robot, not a human … and therefore, your site must follow our proven process to educate the robot so that it brings your website up when your potential customers are searching for specific keywords relating to your site, its products or services.
cro
Conversion Rate Optimisation
Conversion Rate Optimisation is a process to increase the number of website visitors who actually buy from your website. It involves understanding how people use your website and then making a hypothesis about what can be done to improve it. 
Why you should care about CRO
It's hard work getting people to visit your website.
SEO and optimising social channels is challenging.
Paying for ads to drive visitors to your website is expensive.
therefore, it is crucial to increase the revenue you can get from each visitor.
Our SEO srvices can be easily integrated with our SEM and SMM digital marketing services for more robust marketing campaigns.

01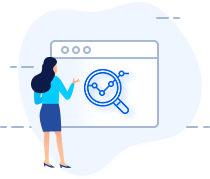 Keyword Research & SEO Audit
Keyword density tells us how often a search term appears in a text in relation to the total number of words it contains
02
Onsite Optimisation
All measures that can be taken directly within the website in order to improve its position
03
Link Building
Actions aimed at increasing the number and quality of inbound links to a websit
04
Review & Analysis
Our SEO review consists of several factors like a content, linking structure, and all social media efforts
SEO Report
Get Free SEO Analysis
Analyse any website based on the main keyword (what the website is about)